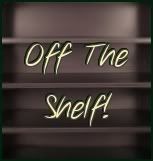 I decided to join just one more book challenge for 2011. Its the Off the Shelf challenge hosted by Bookish Ardour. I hoard books even more than a hoard fabric (hard to believe I know). I cannot walk into a book store without coming out with something and I have been buying faster than I can read them... so 2011 will be the year! I didn't want to take on too much so I'm entering at the "Trying" level meaning I will be attempting to read 15 books off my bookshelf that were purchased prior to the start of the year. Considering I'm already working on 30 library books and 20 e-books I think that's enough for now (lets not also forget I have a 2 and a 3 year old as well as 2 business that I run from home). So 65 books for 2011... we will see how that goes!
As usual I will add the link to this post in the side bar and will track my progress here.
2. The Time Traveller's Wife by Audrey Niffenegger
3.
4.
5.
6.
7.
8.
9.
10.
11.
12.
13.
14.
15.