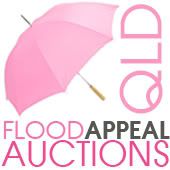 I am sure by now you have heard of the devastating flood and the many, many Queensland Flood Appeal auctions and donation sites. It is so easy to donate, and quite touching to see how the handmade/crafting community is trying to help in their own way.
I wanted to draw your attention to
this auction
at the Mother Huddle starting today,
as well as this master list of auctions and raffles.
Please donate if you can, and if you cannot please help to spread the word on your facebook, blog or twitter.